The Jet Centre
0 followers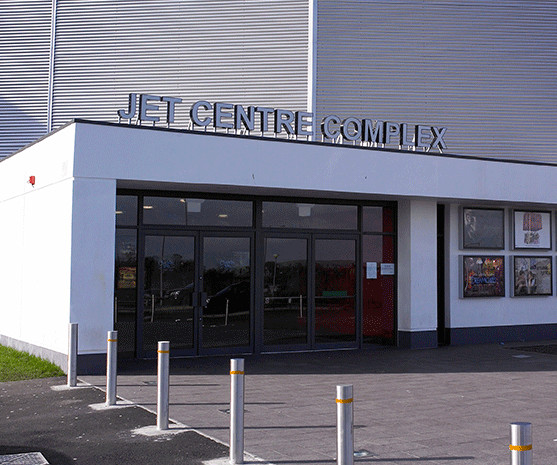 Riverside Park S, Coleraine BT51 3GE, UK
Suitable for:
Facilities:
The Jet Centre has an 8 screen digital cinema, 18 lane ten pin bowling alley, children's indoor play area, arcade area & 18 hole external miniature golf course.
ALLEY CATS INDOOR PLAY CENTRE & PARTY VENUE
One of the largest Indoor Soft Play Centres in the Northern Ireland! It provides one and a half hours of healthy, expressive and creative play for children up to 12 years old or under 4ft 10″.
We have a dedicated area for under 12 months with a ball pit, sound board, rockers and building blocks. For strictly up to 4 years/59 months we have a two storey frame for them to climb, crawl and slide on. It includes a log ramp, slide, two ball pools, a boggle ball, a ball shower and a car wash.
The three storey frame is recommended for 60 month/5 years to 12 years and includes a climbing wall, 3 slides, giant balls pit, rope bridge, look-out tower, sky gliders and cargo nets etc. Since opening in September 2007 we quickly became one of the premier venues for group functions and children's parties.
Alley Cats isn't just for kids! Parents are equally well catered for with a superb range of hot & cold drinks, snacks and tray bakes to enjoy whilst you watch your children have fun.
Facilities also include child friendly washrooms, baby changing facilities plus extensive free car parking!
Toddler morning , for pre-schoolers only, takes place every term time Monday morning in Alley Cats between 10 – 12noon.
The Toddlers get the run of Alley Cats and the price is just £2.50 per toddler including juice & toast.
SUPER STRIKES BOWLING
Welcome to the latest hi-tech bowling alley in Ireland, right on your doorstep! If you've been bowling before, you'll know what a fantastic experience it can be, and if you have no idea what to do, don't worry: you'll soon be hooked!
Automatic scoring helps you keep track of all the bonuses you're sure to score, and there's even our fantastic glo-in-the-dark bowling sessions! Come One, Come All There's practically no limit to the number of players you can have in a game – the computers will track the lanes and scores on your behalf. Sometimes you'll want to practice a few frames by yourself in preparation for the next NITBF competition, or settle a duel with your best friend.
For our younger customers, select you own special theme from our list of 11 to make the experience even more fun! The whole family can play together -children and parents – on the same lane, and the hockey team could book three lanes together and have a mini-league night. You could even take the entire staff out for the evening if you wanted to go for one of our corporate packages that we can tailor to suit your needs!
JET CENTRE MINI-GOLF
Swing on down to Jet Centre's 18 hole outdoor Mini Golf! This beautiful course is brilliant fun for all ages and features some challenging greens that are great for a little healthy competition. Our course is the place to be on a nice sunny day or if you fancy some late evening mini golf then come along, our 18 holes are fully flood lit and we have even added some fantastic lights along our trees to make it a more magical experience for all.
FANTASTIC MORNING DEAL
Play before noon for only £3.50 per person, valid weekends & school holidays.
BOWL/GOLF COMBO DEAL
Why not bowl and golf for only £7 before 6pm and £8 after 6pm per person. Please ask at the bowling reception for further details
Arcade
Time for a quick game?
Right at the heart of the Jet Centre we have a fantastic collection of the latest arcade games, and they're not just for killing time between movies; some of our video games get dangerously close to being like exercise!
Have a go at something more special than the Nintendo Wii or the Xbox 360: sharpen your reflexes and tone your muscles with a dancing challenge or a gun-toting video game!
There's games for all ages and tastes, from top quality racing games and fast-and-furious shoot-em-ups to all new carnival type games!
Even frustrating yet enjoyable classics like prize-giving grab machines and good old-fashioned penny falls and fun foto booths!
We now also have fantastic ticket redemption machines. You have the enjoyment of playing the games and winning tickets that can be redeemed in our beautiful ticket redemption counter.
Don't worry if you run out of coins; there are plenty of change machines in the centre.
Groups
At the Jet Centre we cater for large and small groups, parties, school and education visits etc.
Give us some details on the form below and we will be in touch with further details.
ADMISSION PRICES
CRAZY TUESDAYS – From £3.25 per person
Some Discounts are available to Organisations, Schools & Clubs. Please Make a group enquiry by clicking on the link above.
Super Strikes Bowling
Before 6pm £3.75 per person per game
After 6pm £4.25 per person per game
Family 4 Before 6pm £12.00 per game
Family 4 After 6pm £14.00 per game
Student £3.75 per game
Tuesdays £3.25 per person per game
Mini Bowling £2.50 per game (Family pass rate does not apply)
Alley Cats Soft Play Centre
Babies 0 – 12 Months £1.75
Kids Aged 12 – 59 Months £3.75 for Hour and a Half Play
Kids Aged 5 – 12 Years £4.50 for Hour and a Half Play
Tuesdays £3.25
Movie House Cinemas Standard Show Admission
Adults Aged 18 & Over £6.50
Teen Ticket 13 – 17 Years £5.00
Children Aged 12 & Under £4.90
Students £5.00
Senior Citizens 60+ £5.00
Matinee's 12.00 - 17.30pm £4.90
Morning Matinee before 12 noon £3.50

Mini Golf Outdoor Course
Under 11 £4.00 per person per round
Over 12 £5.00 per person per round