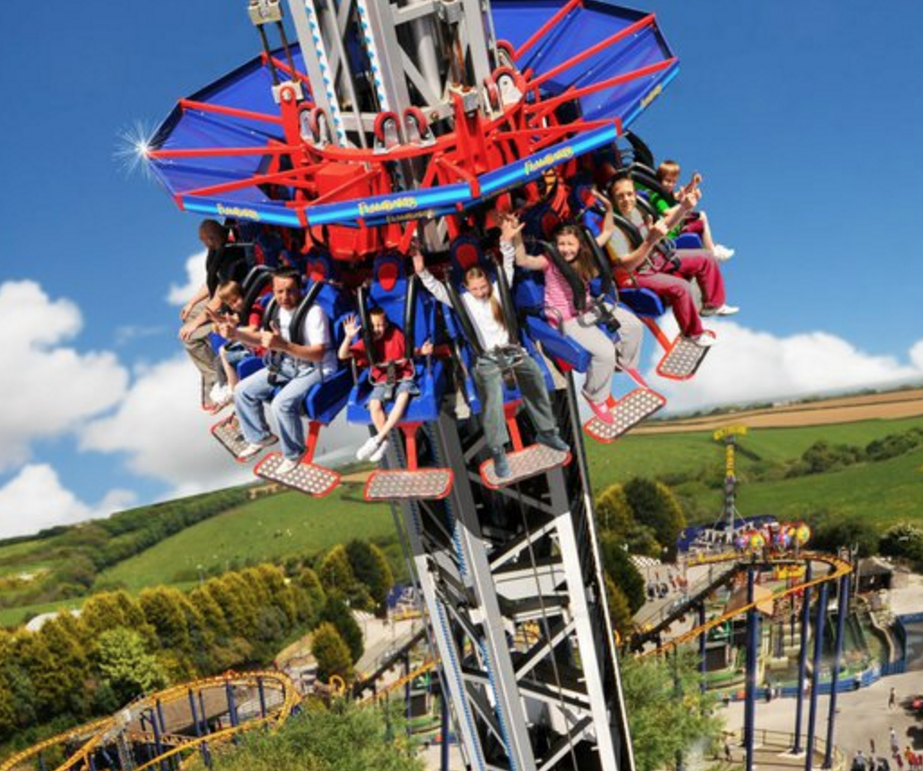 Day Out
Clodgey Lane, Helston TR13 0QA, UK
Seasonal - Check before travelling
Adult
- GBP 19.95
Child
- GBP 14.95
Suitable for:
Facilities:
Description
Flambards theme park is the perfect family day out in Cornwall with a large selection of rides and indoor attractions to suit everyone.
The Big Ride Zone & Ferdi's Funland!
From the thrill seekers to those who prefer a gentler pace, there's something for everyone to enjoy at Flambards.
Experience the fun from the high clutches of The Shuttle space craft to a dizzying spin on the Hornet Rollercoaster. Be sure to check out the amazing view at the top of the drop, twisting ride - SkyRaker before plummeting back down to earth and prepare to get wet on the Canyon River log flume!
There's undercover soft play for little ones, a hands on science zone with laser maze, disorientation tunnel and more to fascinate and plenty of cool stuff that kids will love in Ferdi's Funland.
Walk through history in Flambards' award winning undercover exhibitions
Flambards Victorian Village creates the atmosphere of bustling streets and alleyways.
Over 50 different shops and domestic situations are authentically recreated with thousands of genuine artefacts and 'populated' by very realistic life-sized models of people and animals going about their daily business.
Step back in time and see history come alive!
Discover the world of William White, a pharmacist who lived and worked in Somerset.
When he died in 1909, the shop was boarded up by his son who wasn't qualified to dispense drugs, the shop remained untouched for more than 80 years. The walls are lined with medicine bottles, apothecary jars, quartz carboys, demijohns, pill dispensers and mortars and pestles.
This whole shop was carefully installed to Flambards as it was – lock, stock and cobweb!
Britain in the Blitz exhibition is a life-size re-creation interpreting war-time. Hear the air raid sirens and literally feel the floor shake as another bomb hits the target.
A visit will illustrate what life was like on the Home Front. Peep in to a wartime kitchen, a classroom and an evocative railway platform scene showing children evacuating.
There's so much to do - so take advantage of the annual season ticket at just £27.95 per person PLUS there is a 7 day FREE return for paid admissions.
RIDES & ATTRACTIONS OPEN
Flambards fully open - Rides and Indoor Attractions.

Look out for the 'pink' days on the calendar

INDOOR ATTRACTIONS ONLY
Indoor Attraction only days. Rides are NOT open.

Look out for the 'blue' days on the calendar

Single Standard Admission
Single Standard Admission
Adult


(16 yrs – 59 years)

£19.95
Adult


(16 yrs – 59 years)

£11.50
Child


(111cm – 15 years)

£14.95
Child


(111cm – 15 years)

£6.95
Junior


(95cm – 110cm)

£9.95
Junior


(95cm – 110cm)

£6.95

Senior
(60 years & over)

£15.95

Senior

(60 years & over)

£9.50

Disabled/Carer

(concession price)

£10.95 each

Disabled/Carer

(concession price)

£6.45 each
Infant


(up to 95cm)

FREE
Infant


(up to 95cm)

FREE
Book online 24 hours ahead and save 10% off the full admission price, excluding concession tickets. Check our what's on 2016 calendar