July Baby & Toddler Family Market
0 followers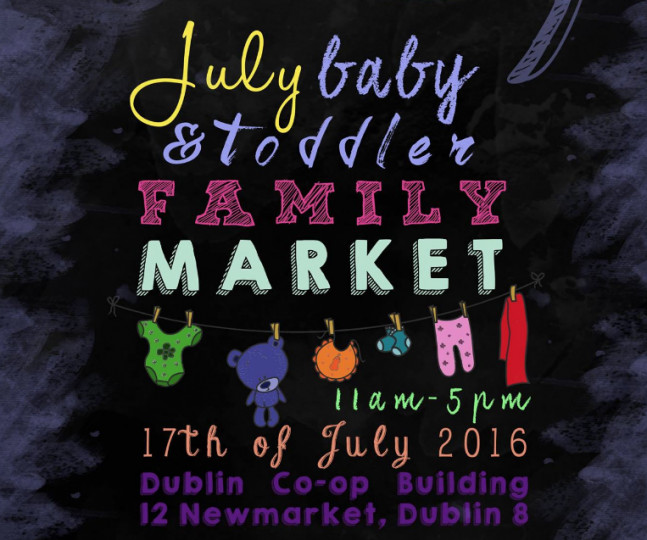 Yet another Family Market is coming soon!
The July's edition will provide stalls with excellent quality pre-loved goods by great brands at bargain prices as well as craft and hand made products. It's the perfect place to stock up on furniture, prams, toys, clothes, books and just about anything imaginable for babies and children.

Our markets always have a great family friendly atmosphere, designanted buggy space and free face painting!
The Thursday Cafè Dublin Food Coop provides excelent choice of halthy lunch options, cakes and coffees!
Family Market Dublin is an initiative to create a place for families to spend a nice day out. We are based in the Dublin Food Co-op at 12 Newmarket, D8, every third Sunday of every second month from 11-5pm (March, May, July, September, November).


We carefully pick our traders who offer high quality handmade products and crafts, art and local design. We prioritise fair trade and locally produced products.

The market is full of beautiful things for children but not only. Great gift ideas! We also have some organic and vegetarian food stalls serving healthy and delicious food, home baked cakes and teas and coffees.

There is free street parking.

The Dublin Food Co-op is well known for its great Sunday markets, which always attract a good crowd of people.

This market distinguish from the others by offering high quality handmade crafts and a kids friendly atmosphere. Every Family Market has a workshops programme including music and art classes for children from 1-6 yrs old. We also have free story reading, free face painting, free kids play zone and designated buggy area.

Parents can enjoy some time off or join the children. We also offer parents workshops and talks like: sling wearing demos, potty training and elimination communication workshop.

Entrance for public - FREE of charge.

If you would like to apply for a stall please email: [email protected] with detailed description of your products and photos would be great too. We will contact successful applicants.

Please pass the word on to all types of traders, artists, designers, traditional and contemporary crafts people you know.

Looking forward to seeing you all at our next market!

Family Market Team