Aviva Stadium
10 followers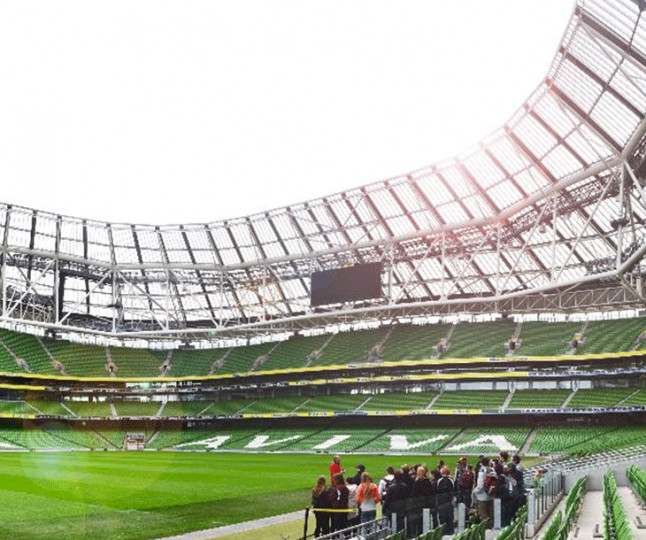 Lansdowne Rd, Dublin 4, Co. Dublin, Ireland
Open 7 days. Feb-Oct: 10am–4pm; Nov-Jan 10am-3pm
Adult
- EUR 10.00
Child
- EUR 5.00
Family
- EUR 25.00
Suitable for:
Facilities:
The guided tour of Aviva Stadium home of Irish football and rugby is a fun, informative and unforgettable experience for adults and children. The tour includes visits to the home dressing room, players' tunnel, pitchside, press room and much more.
Did you know that Aviva Stadium was built on one of the oldest sports grounds in the world?
Did you know that the first ever international athletic meeting happened on Lansdowne Road in 1876?
Want to learn more about our 150 years of Irish Sporting History? Visit us for a tour.
You will see the press conference room, home dressing rooms, players' tunnel, dugouts and more.
Our tour guides will bring you around the stadium and entertain you for an hour.
Tours running 7 days a week but closed when stadium is in use
Useful information
The tour lasts approximately 60 minutes
The tour starts from entrance A on Lansdowne Road
No deposit required to make a booking
The tour is fully wheelchair accessible
For more information please contact us directly
Groups
Aviva Stadium warmly welcomes group bookings. We cater for all types of groups.Special 10% discount on groups 20+.
he Aviva Stadium Tour is the ultimate entertainment experience for schools, students, social and corporate groups, sporting enthusiasts, historians and sustainability groups. Group organisers go free (2 per 20 visitors).
School Tours
We welcome all Primary Schools, Secondary Schools and Language Schools.
The group rates are:
Child ticket (aged 12 or under) €4.50
Student (over the age of 12) €6.30
Teachers/Group Leaders Complimentary entry