Surfdock Watersports
6 followers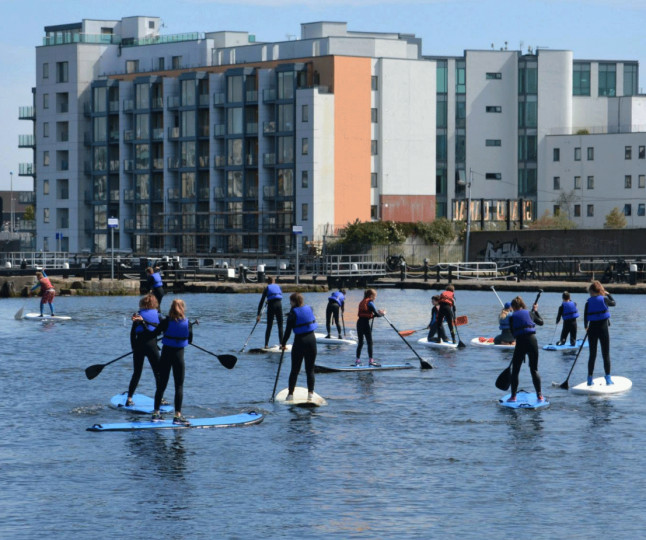 Grand Canal Wharf, S Dock Rd, Grand Canal Dock, Dublin 4, Ireland
Suitable for:
Facilities:
Surfdock is Ireland's one stop shop for watersports equipment and lessons - specialising in providing top quality equipment and Wetsuits for; Windsurfing, Surfing, Stand Up Paddle Surfing, Kitesurfing, Kayaking, Wakeboarding and Waterskiing.
Birthday Parties
We organise fun activities for children's birthday parties, school groups or any other occasion. The Grand Canal Basin is the ideal environment to safely practice water sports. No previous experience in any of the sports is needed.
Kayaking
1 HOUR KAYAKING SESSION €25 (OR €80 FOR A TERM OF 4 SESSIONS)
A session runs over 1 hour and our qualified instructors are on hand to give you advice whether you are a complete beginner or would like to improve your technique/skills.
KAYAK RENTAL
Are you training for an adventure race or interested in going for a paddle on your own? Why not rent a sit on top kayak for use in the Dock for €10/hour or for €45/day if you want to take the kayak somewhere else. A wetsuit can be rented for an additional €2 per person

Summer Camps
Camp Details
Activities: During the week the participants will do a mix of windsurfing, kayaking, stand up paddleboarding and dinghy sailing and cable wakeboarding. No experience is required for any of the sports. Our qualified instructors teach the participants through a series of fun-filled sessions. Participants will be in groups with other children of the same age.
Camp Duration: 5 days (apart from two 4 day camps when the Monday is a bank holiday). The camp starts at 10am (free supervision available from 9am) and runs until 4.30pm (free supervision available until 5pm). There will be a lunch break (children are advised to bring a big packed lunch).
Equipment: We provide all equipment and wetsuits can be rented (please see below for details), so children only need swimwear, an old pair of runners, a towel, warm clothing for afterwards and a big packed lunch