Ballyhoura Apple Farm
3 followers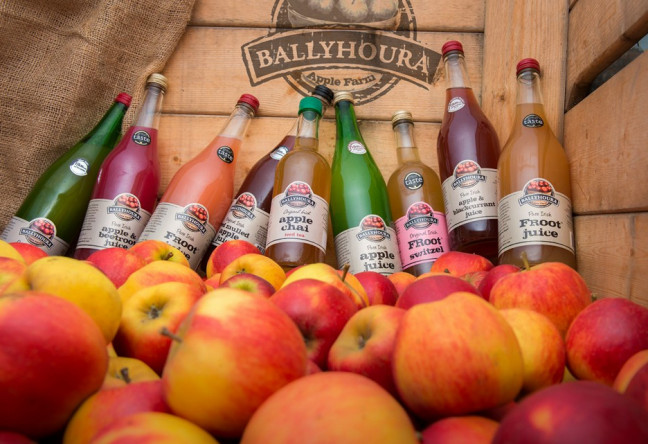 Ballyhoura Apple Farm, Kilfinane, Co. Limerick, V35 YH76, Ireland
Monday to Friday: 9am - 6pm | Saturday: 10am - 6 pm
Suitable for:
Facilities:
Ballyhoura Apple Farm's orchard is located on the outskirts of Kilfinane town in County Limerick.
Our headquarters are located 1k from our orchard in the centre of Kilfinane town at Ballyhoura Artisan Food Park.
Here at Ballyhoura Apple Farm we value our roots in the local community and cherish Ireland's traditions of localism, co-operation, support and friendship.
The fruit and vegetable used in Ballyhoura Apple Farm juices support other food producers in the local community and help to create and sustain local employment. Our use of recycled packaging, glass bottles and wooden bins and NO AIR MILES helps us maintain a low carbon footprint. The overall "cost" to the community represents really good value.
Vinegar Vault
Vinegar has been used for thousands of years throughout the world and we are delighted to continue the tradition here at Ballyhoura Apple Farm in our own Vinegary.
It is here that we produce our Pure Raw Irish Apple Cider Vinegar "with the Mother" where 100% pure undiluted apple cider is magically transformed to cider vinegar whilst carefully nurturing the beneficial microbes known as "the Mother", which makes our product very special.
Apple Cider Vinegar is the mainstay of many folk recipes handed down from generation to generation.
It is also here that our "Orleans" method Gilbert Murphy Irish Aged Cider Vinegar is aged to produce a "mellow" cider vinegar.
Stop in and see us!
Ballyhoura Artisan Food Park,
Kilfinane, Co Limerick.