Go Ape! - Rivington
1 follower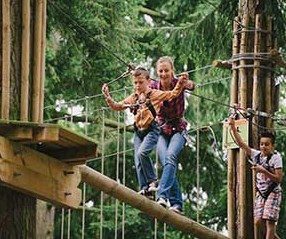 Rivington Lane Rivington Bolton Lancashire United Kingdom BL6 7RZ
February - November: 9:00 - 16:00 but check availability before travelling
Adult
- EUR 33.00
Child
- EUR 25.00
Suitable for:
Facilities:
Go Ape! is an adventure-activity chain venue where groups explore the forest canopy via a treetop rope course for anyone ove 10 years of age and over 1.4m tall.
Days out with us are about living life a little more adventurously, having funwith friends and family and getting in touch with your inner Tarzan (he's in there, we promise!)
The classic Go Ape experience is our 2 – 3 hour Tree Top Adventure. We'll brief you for safety before you fly down our zip-wires, leap off ourTarzan Swing and tackle our crossings.
There are 29 Go Ape adventures around the country, all set in some of Britain's most spectacular forests. We can look after staff and corporate days out of between 15 to 280 and we guarantee your office a day out they'll never forget.
No two of our Tree-Top Adventures are the same, and some locations also offer other outdoor activities like our Tree Top Junior courses for kids and our brilliant Forest Segway Experience safaris. Our Grizedale Forest Go Ape is home to our very first Zip Trekking Adventure.
Our popular Segway experience has now landed at 11 of our adventures UK wide! You can go off exploring the forest on the latest in green technology – a self-balancing electric segway.
Tree Top Junior. Release your little monkeys onto a Go Ape course designed for them. No one loves adventure more than kids!
Zip Trekking Adventure is a brand NEW experience. The course is a network of seven tandem zip lines that traverse the sky-scraping Douglas Firs at Grizedale Forest.
Our opening times vary from adventure to adventure so it's best to checkwhere you want to Go Ape?
Book now to guarantee your time