Diggerland, Yorkshire
0 followers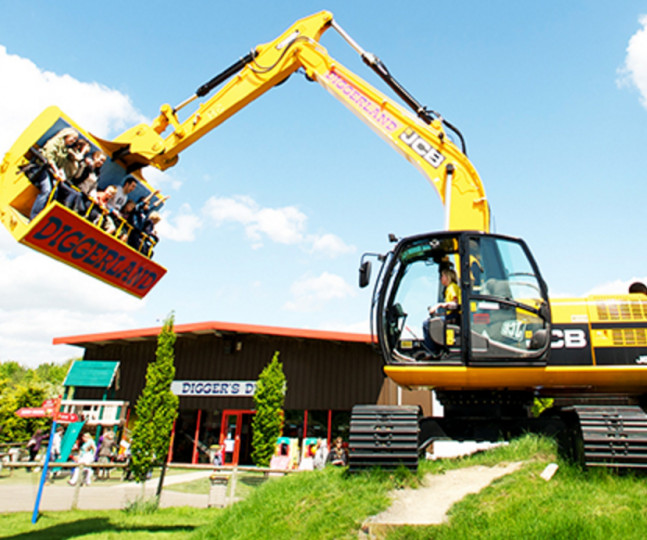 Willowbridge Way, Castleford WF10, UK
February-October; Weekends & School Holidays from 10am. Check opening hours before travelling
Adult
- GBP 19.95
Child
- GBP 19.95
Suitable for:
Facilities:
Buckets of fun for everyone!
Diggerland is The Ultimate Adventure Theme Park Experience where children and adults alike can ride, drive and operate REAL diggers, dumpers and other full- size construction machinery.
Located in Kent, Devon, Durham and Yorkshire, Diggerland is the perfect destination for action, fun and thrill packed family days out.
Fun for all ages (subject to height restrictions), Diggerland with its 18 different rides and drives and an array of additional activities is the ideal theme park for small to large groups looking for something exciting and truly unique.
Get to grips with real JCBs and 180/360 excavators, take a head-reeling turn or two on the Spindizzy, rise to lofty heights and enjoy the views on the Skyshuttle, enjoy a bone-rattling off-road ride on the Groundshuttle, or have a go on the Dodgems and Go-Karts!
There are indoor and outdoor play areas, sandpits, coin operated rides and much more where younger visitors can let off steam while their parents can just sit back, relax and watch the fun… or join in!
All parks boast a Diggerland Goodie Store where visitors can mark their day with a memorable souvenir as well as buy gifts, toys and other merchandise, and there are cafeterias that offer a wide selection of hot and cold snacks, meals and beverages.
Picnic tables are located in the grounds for those who prefer to bring their own packed lunches.
The Diggerland parks have lots to offer for all the family.
The parks are aimed at children between 4 and 14 years of age, however we have many visitors of all ages enjoying a great day out!
Indoor
Each of our Diggerland Theme parks in the UK have soft play areas and an indoor arcade area, if it rains there is still somewhere to entertain the kids inside!
The soft play areas are included in Diggerland's Admission.
Each park offers a different selection of indoor & outdoor children's play area facilities.
All the rides and drives at Diggerland Adventure Parks usually remain open when it rains (some say it's even more fun!).
A few of the taller rides and drives however may have to close for Health and Safety reasons such as when very strong or storm-force winds make it unsafe for visitors to enjoy them. Typically these will include the "Spindizzy" and "Skyshuttle".
Kart World
Now you can get even more thrills at Diggerland, Yorkshire's Kart World… a modern purpose-built indoor Go Karting in Yorkshire circuit that is open to all-comers.
Launched at the start of the 2014 season, and exclusive to Diggerland Yorkshire, Kart World has proven to be a smash hit with young and old alike!
Open during Diggerland's normal opening hours, anyone from the age of 6 can drive the Go-Karts while adults over 17 years old, who need an adrenaline fix, can get to grips with the SUPER-KARTS and hurtle around the circuit at speeds of up to 65KPH for great days out in Yorkshire!
Price: £5.00 per person per go. No need to pre-book… entry to KART WORLD can be purchased on the day on your visit to Diggerland.